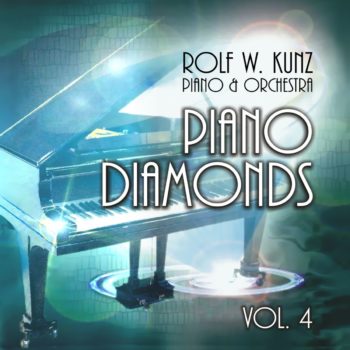 New, timeless and touching symphonic instrumental entertainment- and film music for lovers, with piano and big symphonic entertainment orchestra.
Our 14 songs consist mostly of tender, dreamy and very romantic melodies, however they are mixed also with driving dances, e.g.: "Tango", "Rhumba", "Slow Rock", "Swing".
True feelings of happiness and emotional, exciting moments of Love, Tenderness and a mixture of Dance and Dreams, for real instrumental music enthusiasts are guaranteed.
Track
Track-Titles
Music-Style
Soloists
Length
Sample
1

Love And Confidence




Andante

Rolf W. Kunz (Piano)
3:30
2

White Clouds




Moderato

Rolf W. Kunz (Piano)
3:34
3

Don't Hide Your Tears




Andante

Rolf W. Kunz (Piano)
4:15
4

Young Hearts




Tango

Rolf W. Kunz (Piano)
3:40
5

Silver Rain




Moderato

Rolf W. Kunz (Piano)
3:22
6

Diamonds Just For You




Rhumba

Rolf W. Kunz (Piano)
3:40
7

My Romance




Andante

Rolf W. Kunz (Piano)
4:13
8

Isabella Di Taormina




Slow Rock

Rolf W. Kunz (Piano)
4:08
9

Thanks Dad




Swing

Rolf W. Kunz (Piano)
Peter Hanel (Saxophone)
3:24
10

Eternal Love




Andante

Rolf W. Kunz (Piano)
3:26
11

Just A Kiss, My Love




Adagio

Rolf W. Kunz (Piano)
3:57
12

My Heart Is Missing You




Larghetto

Rolf W. Kunz (Piano)
3:56
13

In Love Forever




Andante

Rolf W. Kunz (Piano)
3:29
14

Your Angel Is Always With You




Andante

Rolf W. Kunz (Piano)
3:32