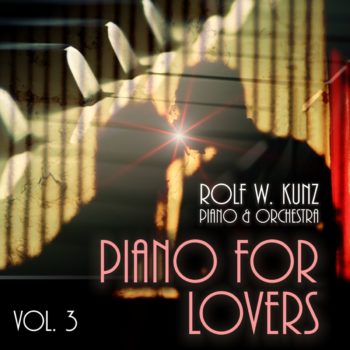 New, timeless and touching symphonic instrumental entertainment- and film music for lovers, with piano and big symphonic entertainment orchestra.
Our 14 songs consist mostly of tender, dreamy and very romantic melodies, however they are mixed also with driving dances, e.g.: "Slow Rock", "Bossa Nova", "Rhumba", "Swing", or "Jive/Rock".
True feelings of happiness and emotional, exciting moments for real instrumental music enthusiasts are guaranteed.
Track
Track-Titles
Music-Style
Soloists
Length
Sample
1

Hirondelle




Slow Waltz

Rolf W. Kunz (Piano)
4:22
2

Un Soffio Di Speranza




Bossa Nova

Rolf W. Kunz (Piano)
4:13
3

Amore Perduto




Moderato

Rolf W. Kunz (Piano)
4:43
4

Ice Queen




Medley

Rolf W. Kunz (Piano)
4:17
5

Non Piangere Più




Rhumba

Rolf W. Kunz (Piano)
4:18
6

Ho Bisogno Di Te




Moderato

Rolf W. Kunz (Piano)
3:32
7

Campanella Sonata




Slow Rock

Rolf W. Kunz (Piano)
3:48
8

Happy And Free




Moderato

Rolf W. Kunz (Piano)
3:50
9

Se Vai




Moderato

Rolf W. Kunz (Piano)
4:37
10

Daddy's Song




Swing

Rolf W. Kunz (Piano)
4:23
11

Ma Petite Princesse




Moderato

Rolf W. Kunz (Piano)
4:19
12

Noite Brasileira




Bossa Nova

Rolf W. Kunz (Piano)
4:29
13

Sogni Della Notte




Rhumba

Rolf W. Kunz (Piano)
3:53
14

Rock Lady




Jive

Rolf W. Kunz (Piano)
Adam Taubitz (Violin)
4:21