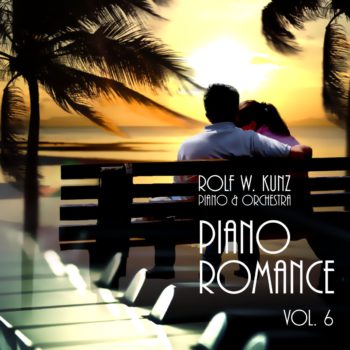 New, timeless, tender, dreamy symphonic instrumental entertainment- and film music for lovers.
The Piano and this orchestra are transforming our 16 instrumental songs to wonderful soul feelings of happiness and emotional hours for real romanticists.
Lovers, snuggling up together, dreaming of tenderness, will melt away listening to this romantic music.
Track
Track-Titles
Music-Style
Soloists
Length
Sample
1

When You Go




Moderato

Rolf W. Kunz (Piano)
4:39
2

Bell Chimes




Slow Rock

Rolf W. Kunz (Piano)
3:50
3

Young Hearts




Tango

Rolf W. Kunz (Piano)
3:42
4

My Secret




Classical Soft Melancholy

Rolf W. Kunz (Piano)
Antonio Conde Soriani (Trumpet)
Daniel Pezzotti (Cello)
2:40
5

Nightflowers




Classical Slow

Rolf W. Kunz (Piano)
Antonio Conde Soriani (Trumpet)
Willy E. Kunz (Saxophone)
3:41
6

My Little Princess




Moderato

Rolf W. Kunz (Piano)
4:21
7

Dream Of Heaven




Classical Slow Beat

Rolf W. Kunz (Piano)
4:01
8

White Clouds




Moderato

Rolf W. Kunz (Piano)
3:36
9

Andante Of Love




Classical Soft Slow

Rolf W. Kunz (Piano)
Antonio Conde Soriani (Trumpet)
Slobodan Mirkovic (Violin)
4:57
10

I Need You




Moderato

Rolf W. Kunz (Piano)
3:09
11

My Heart's Prayer




Boston

Rolf W. Kunz (Piano)
Antonio Conde Soriani (Trumpet)
Uschi Buess-Meyer (Oboe)
3:55
12

Don't Hide Your Tears




Andante

Rolf W. Kunz (Piano)
4:17
13
Lost Love


Moderato

Rolf W. Kunz (Piano)
4:45
14

Eternal Love




Andante

Rolf W. Kunz (Piano)
3:28
15

Eternity




Classical Slow Beat

Rolf W. Kunz (Piano)
Slobodan Mirkovic (Violin)
4:13
16

Your Angel Is Always With You




Andante

Rolf W. Kunz (Piano)
3:33